810 Day, MaskOfDestiny, Info Boxes, and Other Updates
by Planetperson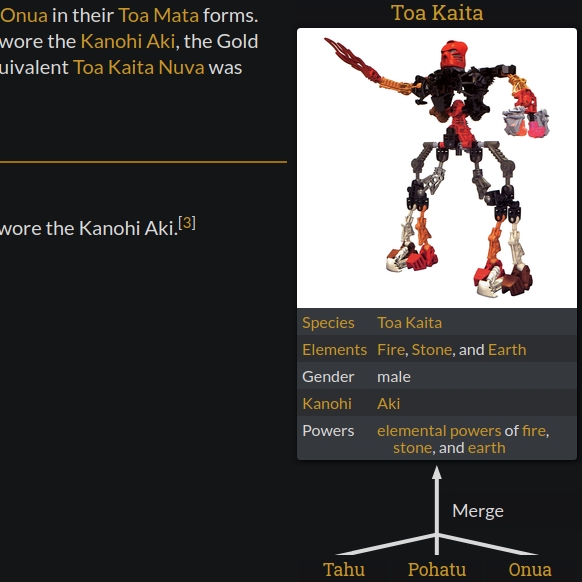 Happy International 810NICLE Day! This may be hard to believe, but we're back with some site updates. This blog post will bring you up to speed on what's going on at the Great Archives.
MaskOfDestiny and the Tryna Initiative
If you blinked you may have missed it, but there was a momentous announcement about the Great Archives back in August during 810NICLE Day. The Great Archives has teamed up with MaskOfDestiny and several other BIONICLE-related groups to support creative projects in the BIONICLE community, an effort called the Tryna Initiative. The stated goals of the Tryna Initiative are:
Preserve existing BIONICLE content and present it to new and old fans in the best way possible.
Consolidate resources for producing new content (both stories and sets), allowing the BIONICLE legend to live on in the hands of fans on a scale that hasn't been seen before.
The hope is that this collection of community projects can serve as a spiritual successor to the original BIONICLE storyline and inspire others to contribute too. In the words of Toa Matoro, the wearer of the Kanohi Tryna, "We'll take it from here."
Clearly, the Great Archives fits the bill for goal #1 with the Official Greg Discussion Archive and the work-in-progress encyclopedia (more details below), so it made perfect sense to join forces with the likes of BioMedia Project and Wall of History to form a supportive network of sites under the banner of MaskOfDestiny, which, in case you're not familiar with it already, is a website that has been reporting BIONICLE news since the theme began in 2001. So, what does the Great Archives' affiliation with MaskOfDestiny mean in practical terms? The Great Archives will still be the Great Archives, but now you'll see updates about the Great Archives in MaskOfDestiny's news feed as well. When you get a chance, you should definitely check out all of the other projects in MaskOfDestiny's Tryna Initiative as well:
Encyclopedia Updates
Although still a work in progress, the encyclopedia has gotten some love recently. The most significant update is that almost all articles now include info boxes that document all of the different forms that each character, location, or item has taken in the story. Take the Ahkmou page for example: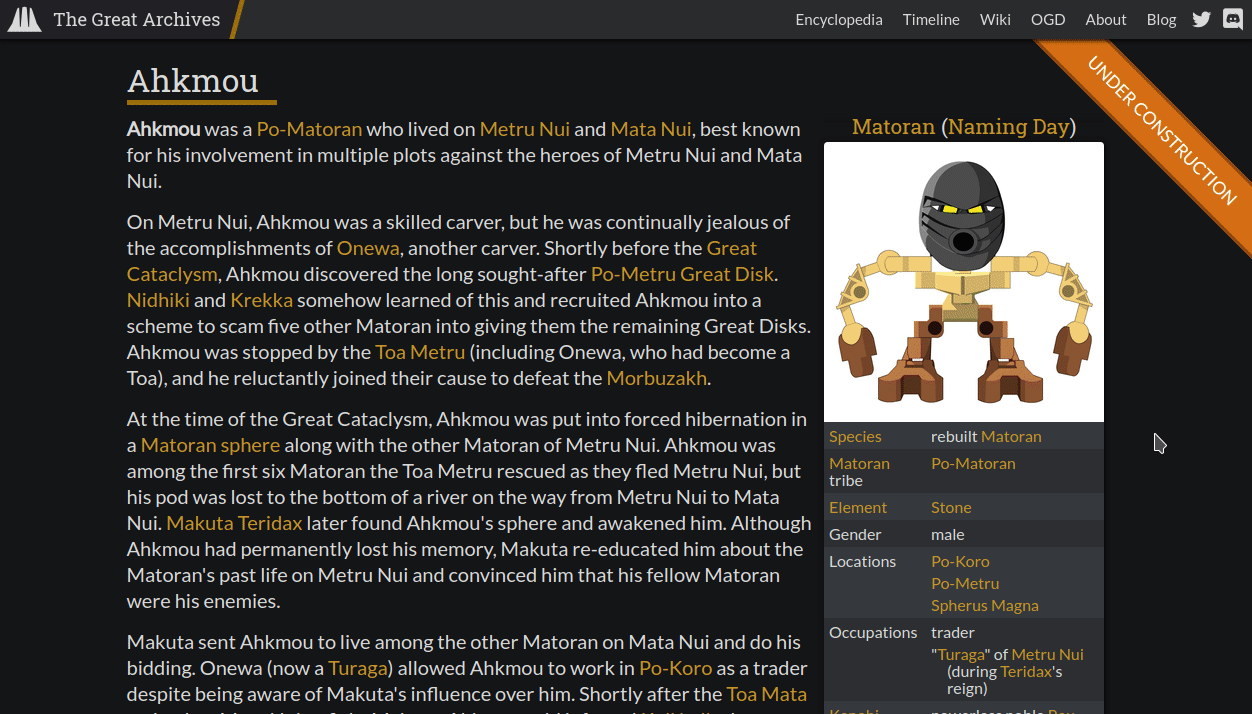 If you're at all familiar with the BIONICLE story, then you know that characters tend to transform and mutate a lot. The info boxes include helpful arrows between them so readers can easily keep track of these transformations at a glance. Even better, these info box charts and their arrows will now display correctly at all screen sizes, even on mobile devices.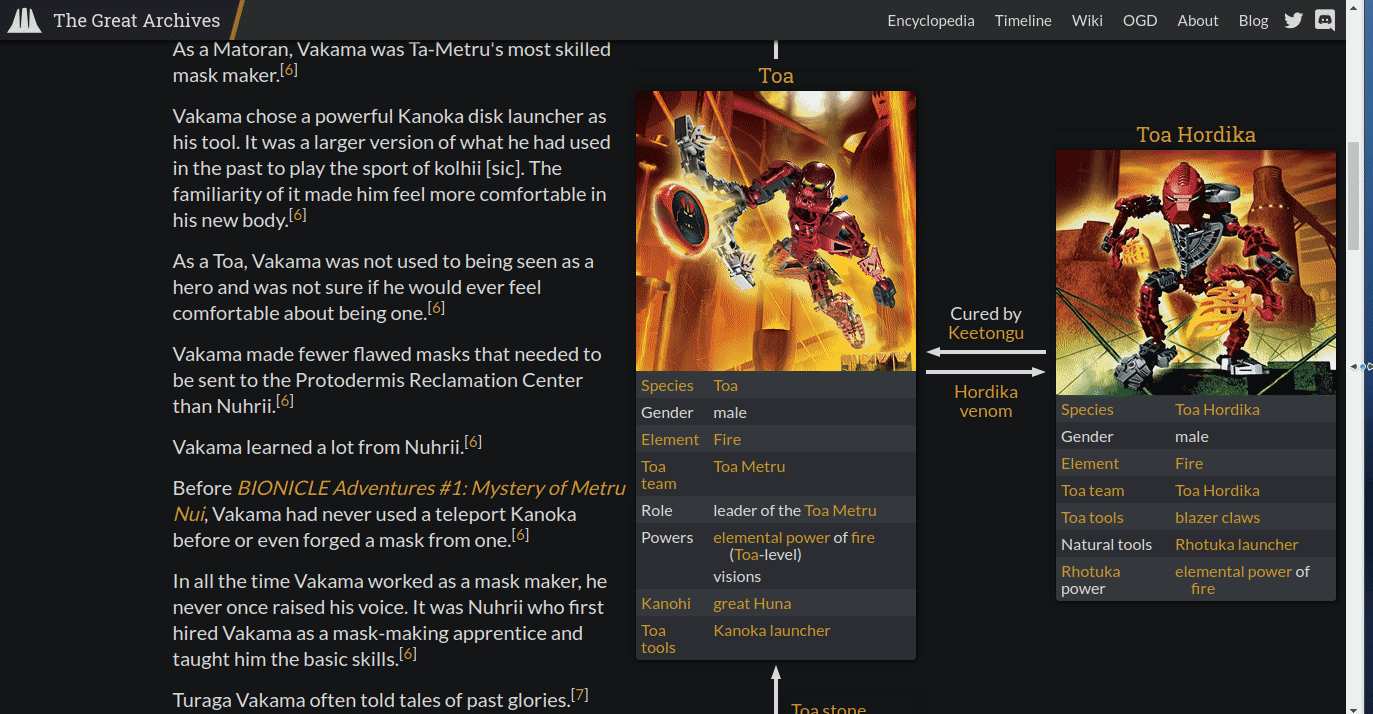 Getting this to work properly was more difficult for some articles than others! Here's a list of articles with more "interesting" info box layouts you might want to check out if you're curious:
Keep in mind that all of this is still a work in progress. For one, very few of the info boxes have any images yet. So, the next thing to do is to get to work adding them! The ultimate goal is to add the best info box pic available for every BIONICLE character, in every form, in every artistic style (LEGO set, movie, comic, Flash, etc.). If you're interested in helping gather images to fill in the info boxes, I encourage you to join our Discord server and mention it there. If you have ideas for how to make the info boxes look better or feedback in general, feel free to share it on Discord too. Finally, if you spot problems with the information included in the info boxes, feel free to mention it on Discord or the wiki. I did my best to fill them in accurately, but mistakes will be made. I'd like to thank everyone on the Discord server who helped me out over the summer whenever I was unsure of something!
As a result of adding the info boxes, the encyclopedia has benefitted from better page organization. None of the articles listed in the index are missing anymore, and pages have been split and combined more logically (for example, Krahka (Being) and Krahka (Species) are separate pages now, and Toa Inika and Toa Mahri now share a single page).
That's not all. Thanks to the amazing efforts of toaskello on the wiki, this update also includes a huge amount of new information collected from the Official Greg Discussion from 2006-2007. Overall, toaskello has personally added information from 100 pages from the OGD topic, spanning all the way from May 2005 to March 2007. Wow!
That's all for now. Join us and the rest of the Tryna Initiative for more cool updates in the future, and get involved by following @GreatArchives and joining the Discord server.